Monny is a traditional Dutch company, established in 1990
Monny has many years of experience in the clothing industry and is a reliable brand.
Monny started to specialize in communion and party clothing and has now become a unique brand in that area. We release a new collection every year for delivery from November.
What makes Monny so exclusive?
The frequent use of beautiful natural materials, such as linen, silk voiles and cotton tricots, in addition to exclusive bridal fabrics. The communion collections are unique and can be perfectly combined. The models are available in different colors but also in different materials. The shopkeeper can therefore combine endlessly according to his own insight and thus present a beautiful collection for the consumer. Naturally the shopkeeper also receives a certain exclusivity.
The Monny Children's Clothing collections are not only sold in the Netherlands but also in Belgium, Germany and Italy.
View our new leaflet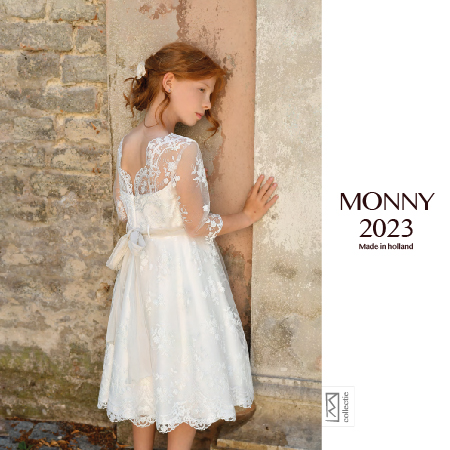 Contact us
| | |
| --- | --- |
| Monny | +31 (0) 6 365 66 276 |
More information can be found on our contact page.